Vision
Mission
Guiding Principles
Goals and Objectives
Message by In-Charge Research Cell
Vision
NWSM is a new leading medical institution in the private sector where research excellence at the undergraduate level is a top priority, which is proactively promoted for its worthy contributions to the addition of new medical knowledge for the advancement of healthcare, to the professional and personal development of students and researchers, and to the wellbeing of humanity around the world, with specific emphasis on healthcare development in the low-income settings.
Mission
At NWSM, we will foster a sustainable and vibrant culture of creativity, innovation, and a high level of research to create, integrate, interpret, share, and apply medical knowledge with integrity, efficiency, highest standards of ethics, enthusiasm, and purpose.
Guiding Principles
Student Research Activities
To value, support, facilitate and enhance quality research at NWSM to encourage undergraduate as well as postgraduate students to pursue robust research activities leading to palpable research output.

To provide the freedom and guided mentorship/electives to young researchers to pursue research excellence that is based on their individual and collective intelligence, curiosity, ingenuity, and creativity.

To incorporate innovative pedagogical methods to enhance student participation and to contribute to undergraduates' first-hand understanding of the research methodology and practice of evidence-based medicine from the outset of their medical careers.

Offer all medical students the opportunity to undertake independent research projects, not failing to provide them with the appropriate supervision and encouragement
Faculty Research Activities
Valuing and supporting faculty members' participation in research activities leading to quality publications, conference presentations of national as well as international repute, production of high-quality intellectual property with potential for standard reflective practice, educationally useful outcomes, and other similar research activity. In the future, demonstrable research capacity will be one of the imperative criteria for all faculty recruitment and promotions at Northwest School of Medicine. 
Overarching research activities 
Not only NWSM but also, we are committed to developing a research environment that cuts across academic as well as healthcare units of Alliance Healthcare including NWGH and NWIHS to address significant opportunities and challenges for which AHL is particularly well-positioned to build nationally and internationally recognized research capacity.
Management of Research 
In near future, the overall management of research activities shall be coordinated and collaborated by a vibrant and robust Department of Medical Research under the supervision of the Principal/Chairman. The assistant director research/research officer/research associate will be responsible for the overall conduction and functioning of the research activities. 
Financial Support
Research is undoubtedly an expensive activity and more so, it is for the developing and low-income countries with constrained health resources. Therefore, to encourage and enable research excellence, institutions need to build and sustain a research environment to drive highly motivated students, the assistance of specialized staff, access to state-of-the-art equipment and facilities, and sufficient operating funds. NWSM is actively pursuing and overcoming these challenges to promote research. An advisory body has been developed to establish a research grant unit for financial support of all research activities across AHL. 
Goals and Objectives
The main purpose of this Research Policy is to provide an outline for the overall functioning of both basic and applied research to promote the conduction of research as a priority pursuit in Northwest School of Medicine.
The specific goals and objectives are:
Goal 1: Streamline research activities to attract, retain, support, and celebrate people engaged in and supporting research
Objectives associated with Goal 1:
Improve research culture and practice.

Promote NWSM's research opportunities.

Support faculty, students, and postgraduate trainees to achieve excellence in research.

Provide an enabling environment for smooth conduction of research

Encourage mentoring for researchers.

Celebrate the achievements of researchers and research teams.
Goal 2: Support an environment of the fiscally sustainable research enterprise
Objectives associated with Goal 2:
Strengthen research management, coordination, communication, and responsiveness of administrative supports for research.

Facilitate multidisciplinary collaborations in research excellence

Mobilize and manage funds for quality research and innovations.

Enhance supports for NWSM researchers to obtain and manage to fund.

Provision of funding support, incentives to promote quality research outcomes, and awards for recognizing research excellence

Implement integrated systems for tracking and reporting research activities and outputs.

Increase supports for sharing research findings and outputs, including across AHL units.
Goal 3: Local, national, and international collaborations 
Objectives associated with Goal 3:
Establish and encourage local, national, and global networks for information and resource sharing and collaboration between NWSM and other organizations

Enhance inter-organizational collaboration to facilitate contact between students, researchers, and institutional partners to maintain and sustain long-term research collaborations.

Organize regular local and national Research symposia, seminars, and conferences to promote research education for medical students.
Goal 4: Applied and Translational research excellence
Objectives associated with Goal 4:
Pursue training models of research that foster translational and clinical research

Nurture a clinical research environment to undertake medically useful research with potential for international recognition

Increase opportunities for Northwest researchers to communicate and collaborate with one another and with external partners and collaborators on basic and applied research.

Create a translational research program (bench-to-bedside results) that produces tangible outcomes.
Goal 5: Clinical Trial Unit to promote quality Clinical Trials
Message by In-Charge Research Cell
Research has been an integral component of biomedical sciences throughout the world and achieving excellence in research is a collective process steered by faculty, clinicians, and students. Northwest School of Medicine (NWSM) has a vibrant culture of research to bring out the inherent creativity and innovation of students into practice. This practice is reflected in the array of research activities undertaken at NWSM, including the undertaking of regular research projects, annual undergraduate research symposia from the platform of NWSM, publication of a peer review student journal, and academic research. 
At NWSM we consider research as the basis of scientific knowledge to bring new energy, build outclass facilities, develop and promote scientific and biomedical publications, create sustainable collaborations, and engage with the local community as well as with national and international partners. Our research policy sets the vision, mission, and guiding principles for research at NWSM, to create a vibrant and viable environment of research among faculty, clinicians, and students and to achieve excellence in research. This policy marks a significant step in NWSM's growth and evolution as a novice research-focused medical institution. This serves as an aspirational document, to motivate us to pursue, support, and celebrate research excellence in all its forms at NWSM. The document outlines specific action plans in the academic as well as clinical units and the recruitment and development of new research faculty to achieve the vision set out in the policy. It also steers NWSM's future investments in support of research.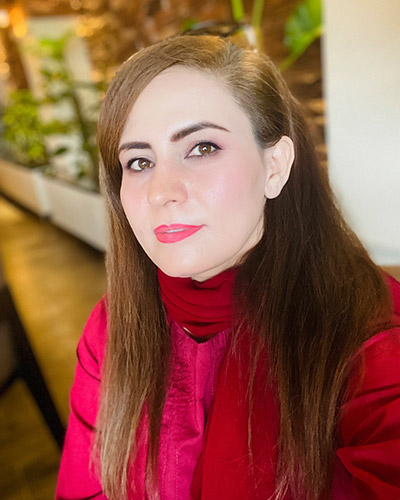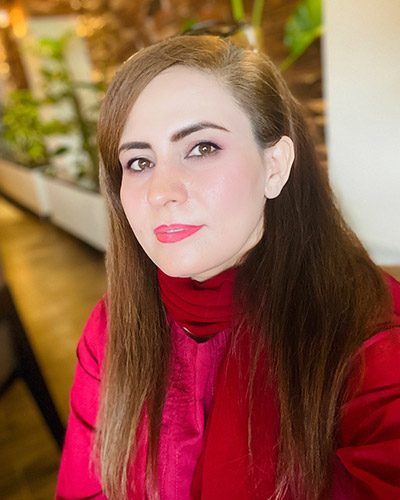 Dr. Almas Fasih Khattak
In-charge Research Cell